Bay window

& Sunroom

curtain poles are our speciality.
---
25mm Curved Bay Curtain Pole, Plain Ball in Traditional Black
Curtain poles for Bays and Sunrooms made properly

We've made hundreds (maybe thousands) of superb quality, bespoke wrought iron bay window curtain poles for both angled and curved (bow) bay windows. As a result we have a wealth of experience, technical expertise and resources to make these using measurements supplied by the customer.
We also make curtain poles for sunrooms (timber or brick conservatory, orangery type extensions) and can make any size curtain pole from 25mm diameter tubing. Typically we have curtain poles 6m to 10m in length on the books at any one time. Ask for a quote.
---
"Hi Stephen, I just wanted to say that the pole arrived just before New Year but I didn't get time until yesterday to put it up. It was so straightforward to put up, looks so beautiful and the action is so smooth – I love it – thank you so much! That's many years of various bay window nightmares finally vanquished!!"
Janet (2020)
---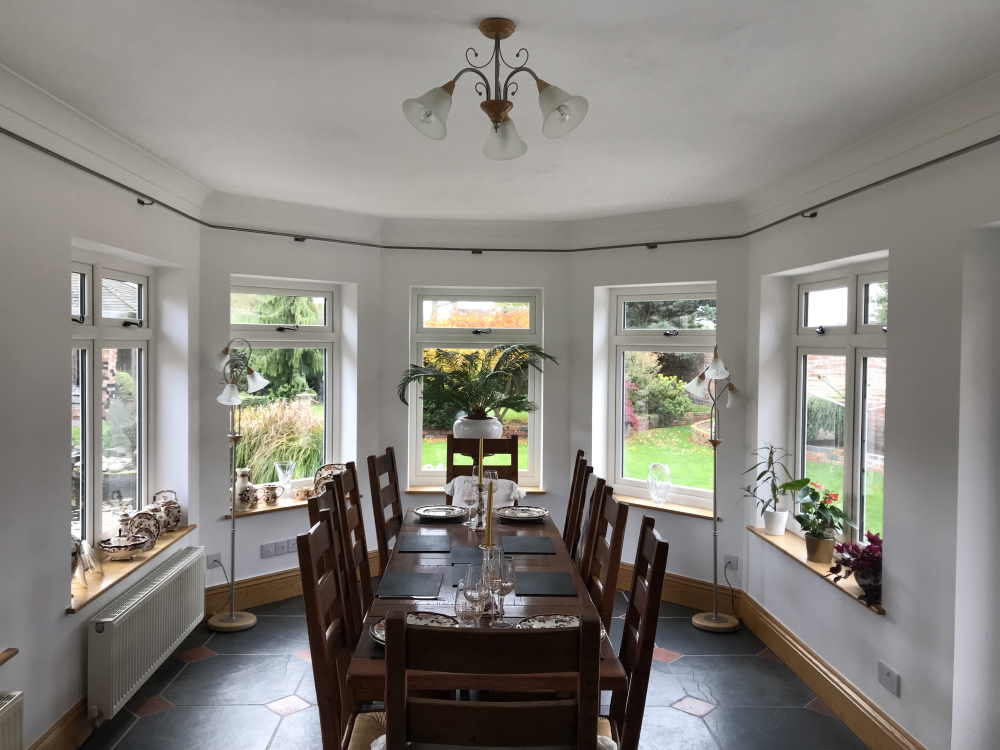 A curtain pole for a sunroom type extension . A single curtain can follow the sun along the full 12m length of the pole.
"Hi Stephen, Just a quick note to let you know that the pole is now fitted, and it looks fabulous. Emer asked that we send photos which are attached. Thanks for your hard work and precision. Regards, Bob"… (October 2021)
---
We'll make a better curtain pole…
Never bent to a drawing chalked on the workshop floor, these custom made bay window curtain poles are properly designed and validated using AutoCAD. This way an exact fit is assured that runs level and parallel to the walls of the bay. The result is a quality, well engineered, beautiful bay window curtain pole. One that works as it should at the best possible price.
There's more to read down the page or Click on the nearest shape to your Bay window below for more specific information.

See below for Measuring & Guides
Click your bay window shape below…

Measuring for your Bay window curtain pole…
Click on the appropriate drawing above to select your bay window shape and follow the instructions for the required measurements. There's a price calculator which will give you a very good idea of the cost too. Remember, these are just examples of the more common designs but we can make poles for just about any shape of bay with any number of bends. We can also make curtain poles for ceiling fix too. Let us know if you have any particular requirements and we can let you know what measurements to take.
Please note: The 16mm bay window curtain poles have five brackets making them suitable for use with curtains using passing rings. This design would not be suitable for a single pair of Tab-Top or Eyelet curtains as they could not cross the intermediate passing brackets…
---
Sorry, we no longer make double bay poles for sensible money!
---
Do you want a Bay window curtain pole that just uses three brackets?
Bay window curtain poles suitable for TabTop or Eyelet curtains
"Hi Stephen,.. Just to say that we are really pleased with the curtain pole; it fits beautifully. I've attached a photo for you to see. Many thanks, Sharon & Donald"…April 2021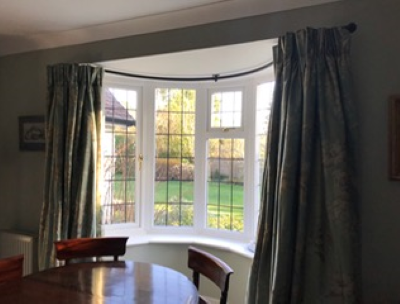 25mm Curved Bay pole using just three brackets (two wall, one ceiling). Uses standard double hoop rings.
We can make 25mm diameter bay window poles that only use three brackets instead of five. Also, these could be the answer if you'd rather use standard double hoop rings instead of passing rings with your curtains. The poles are supplied in two sections.
25mm curtain pole that uses only three brackets
Extra large Bay windows?

Using 16mm Diameter solid bar:
The size of bay window poles made from 16mm diameter solid bar can be up to 5m along the walls. This is due to carriage limitations. Black, Petwer or Beeswax finishes.

Using 25mm Diameter Tube:
Bay window curtain poles made from 25mm diameter tubing can be built for any size Bay window.
In Black or Pewter finishes.
Technically better…
We can make bay poles from either solid bar or tube, simple and complex, multi-angled, curved or combination. If you supply mm accurate measurements, we can supply a pole to fit within mm accuracy of those measurements. As fully qualified Mechanical and Manufacturing Engineers, not just Blacksmiths or Farriers, we know what we're doing.

Not everyone making bay window curtain poles has the skill to bend tubing which is much harder to shape than solid bar.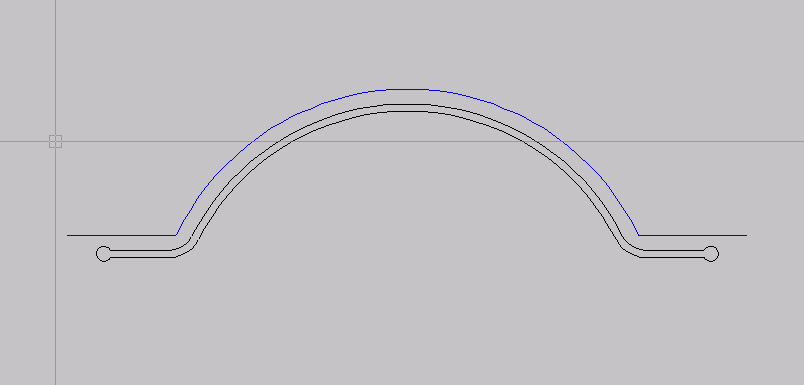 A CAD drawing is created for every bay window curtain pole
And better value…



It's basically down to efficient manufacturing techniques. Whilst still hand-made, and we do use the hammer and anvil where necessary, we don't pretend to be using out-dated, purely 17th century methods which would add absolutely nothing but huge cost and inaccuracy to the poles.

Every manufacturer that makes wrought iron bay curtain poles uses MIG or ARC welders in the process, as we do. We make things properly, carefully and efficiently with the benefit of years of production experience and are honest about our methods. Also, we don't spend a fortune (in fact, nothing!) on professional branding and marketing so there's none of those overheads to recover. Please do compare our prices and quality.
What to expect…(assuming we've been given the correct measurements, of course!)

The pole should keep the same offset around the bay and the distance from the walls should not vary. Variations in offset are especially apparent in badly made curved bay curtain poles.
A bay window curtain pole should be flat without twisting out of plane between bends or along a curve.
Passing rings should not catch on the brackets or jump off the curtain pole if fitted properly to the curtains (see advice below).
The curtain pole should be properly supported and not sag at the corners. It should be stable and not twist when the curtains are moved along it.
The bracket fixing plates should align properly.
Hanging curtains with Passing Rings
Let's face it, the now ubiquitous "Passing rings" are essentially to some degree, a compromise. The idea is to address the problem of preventing the (usually solid bar) pole from failing under the weight of the curtains by introducing "Passing" brackets to give the pole extra support. Unfortunately horror stories abound of rings jumping off poles or catching on brackets where some manufacturers haven't got it quite right with their Passing ring systems (including the copycats!). Having said that, our unique design works very well indeed and is proven over many years but to get the very best results there are still some provisos…
The curtain heading tape usually has three rows of pockets and strings. With curtain tracks, the hooks are inserted into the bottom or middle row of pockets so that the curtain heading hides the track. However, for curtain poles the hooks should be inserted into the top row of pockets so that the curtain hangs below the pole. This is especially important when using Passing rings.

Passing rings should be attached to the curtain hooks inserted in the top pockets of the curtain header tape so that the curtain hangs completely below the rings.
Each Passing ring should bear enough curtain weight to stay in contact with the pole…
Curtains using Passing rings should be hung clear of the floor.
Curtains should not be lifted when drawn.
Please make sure you space the rings accordingly.
We can also make 25mm bay poles that just use three brackets and standard double hoop rings too (see above).
Maintenance
Every 6 months or so, pewter and black bay window curtain poles can benefit from a quick wipe on top with a cloth lightly sprayed with a dry lubricant such as PTFE or silicone spray. Beeswax poles can be buffed lightly to avoid any dust build up, and a little plain furniture wax keeps the rings running smoothly.

Passing rings work best above the curtain
Available in two diameters…
Strong, elegant 16mm diameter solid bar

A bay window curtain pole formed from 16mm solid iron bar would usually use a five bracket passing ring system which ensures proper support so that the pole does not sag at the corners. Strong enough for any size bay, this allows closer bends and results in a better, more elegant fit than can be achieved with larger diameters, especially for more complex bays. The refined look of the 16mm diameter poles is in constant demand and remains ever popular.
---
Contemporary, chunky & rigid 25mm diameter tubing.

If you're looking for larger curtain poles we can also make 25 mm bay curtain poles for both Angled and Curved bays. We use high quality thick wall tubing ( thicker quality than The Bradley Collection steel curtain poles). Tubing is used as heavy solid bar over 16mm diameter could put excessive strain on wall and ceiling fixings. The heavier the pole, the more it will sag under it's own weight.
The 25mm poles are available in the same finishes as the 16mm range. These are very strong and rigid poles which can span a greater distance than solid bar without extra support, so are often more suitable for ringless curtains too.
25mm diameter Curved curtain pole with Ball & Collar finials.
If you need any advice we're very happy to discuss. Either email us here or just give us a call on 01386 700299.
---
"Hi Stephen
I just wanted to let you know that the pole section arrived this week and is perfect. The full bay pole looks fantastic!
Thank you again for sorting the issue out so quickly."
Kind regards
Lucy" (May 2021) (issue was damage in transit)
Guaranteed to fit?
Of course! If you've provided accurate wall measurements and all relevant information, it's no more than your entitlement that the pole fits properly.
---