Curtain rings, Brackets, Finishes

We make our own brackets and curtain rings as well as using our own finishes. Just as we make all our curtain poles, so the curtain rings and brackets are all made in our workshop too.
---
Brackets
There are several types of brackets for different situations.
These include: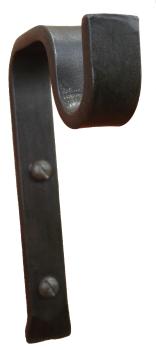 is made from 16 x 5 mm strap and projects the pole 45mm being the gap between the wall and pole (or 53mm from wall to pole centre). The bracket is 115mm from bottom to top. The 5mm diameter screwholes are centred 20mm and 65mm frrom the bottom of the bracket.
---
The Centre Support Bracket… can also be used as an alternative to the Standard Bracket where space is limited.
Support bracket with horizontal back plate
---
Ceiling Fix Brackets…Here showing short drop ceiling brackets (about 25mm from ceiling to pole). Other drops are available.
Ceiling Fix Brackets (short drop)
---
Joining Bracket
The Joining Bracket… used to join bay window curtain pole halves and longer poles which are in sections. Shown here with a 25mm high fixing plate.
Please note this is not a "Passing Bracket"
---
Integral Support Bracket… used with bay window and extra long poles to allow "passing" rings to travel over them.
Integral Support Bracket
---
Recess Brackets… for use with Recess poles e.g. opposing walls in recesses.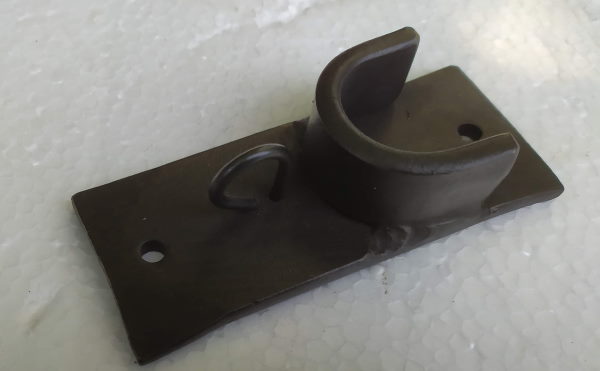 Vertical Recess Bracket with Capture ring (above)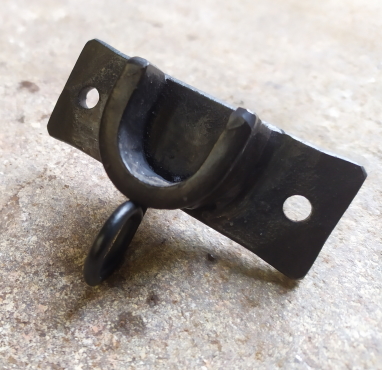 Horizontal Recess bracket with Capture ring
---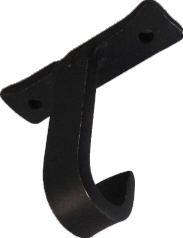 Ceiling fix bracket ( Ceiling bracket for Passing rings also available)
Ceiling Brackets… available for straight or Bay window curtain poles. The gap between the pole and the ceiling can be specified as some finials are larger than others. Ceiling brackets for Passing rings are also available.
---
---
All brackets available in Beeswax, Traditional Black or Pewter finish
---
Brackets dipped in hot beeswax
Rings (16mm poles)

There are two types, "Double hoop" and "Passing" of which 4 per 30cm are supplied with each 16mm diameter pole.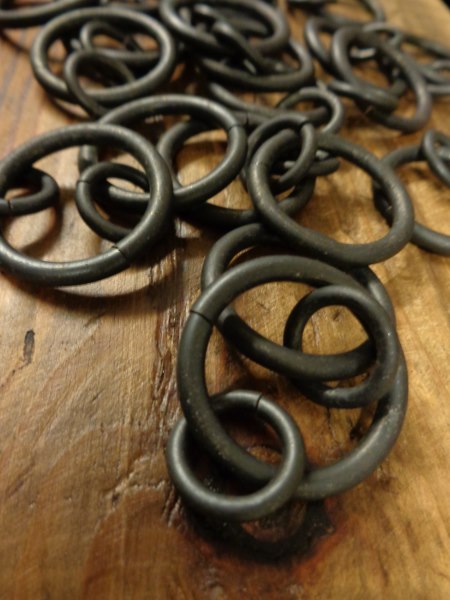 Double Hoop rings
Double Hoop (16mm)…These are made from two pieces of drawn steel, 4mm dia steel for the larger ring, 3mm for the smaller.
Each is hand assembled from saw cut steel. This gives a very close join and smooth action.
The distance from the top of the pole to the inside bottom of the small ring is approx 38mm.
Passing ring dimensions
Passing rings (16mm)…These are individually fabricated from the larger and smaller rings and have a quarter cut out of the main curtain ring so that they can pass over the integral bracket.
The distance from the top of the pole to the bottom inside of the small ring is approx 44mm.
Note: Rings for curtain poles, especially Passing rings, must be attached to hooks inserted at the top of the curtain header tape. Click here for more info.
Various people claim to have invented Passing rings but it is a system that has been used with curtain poles at least since Victorian times!
Rings (25mm dia poles)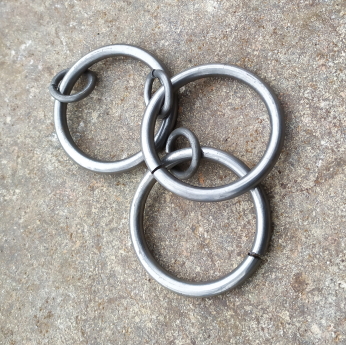 Double hoop rings for 25mm diameter poles
Double Hoop ring (25mm pole)

A chunkier pole needs a chunkier curtain ring so for 25mm diameter poles we go one better than most and use 5mm dia steel for the large hoop ring, and 3mm for the small ring.
For working out curtain drop, the distance from the inside top of the large ring to the inside bottom of the small ring is 52mm. The large ring has an internal diameter of 40mm.
Passing ring (25mm pole)
These are the same materials as the double hoop but with a quarter segment cut out.
For curtain drop the measurement from the inside top of the large ring to the inside bottom of the small ring is 60mm.
Finishes
Although Black is usually a fairly safe bet, we don't guarantee to colour match existing ironwork or items from other manufacturers. We won't attempt to do this from photographs (or descriptions) as there are too many variables such as white balance, lighting conditions and display settings. Having said that, finishes can still compliment each other even if they're not exactly the same!
There are three types of finish but below the Traditional Black and Beeswax are shown for comparison and shows their subtle differences.
Beeswax…Applied directly to the solid bar (not available on 25mm), this gives a mellow, very dark rustic brown. We use our own recipe and method of applying this to give our poles a unique look (and aroma!). There can be variations in this as it is applied by hand but this is a very popular finish.

Traditional Black…This is a traditional paint finish which is useful where existing black ironwork needs to be complimented. The paint is hand-waxed afterwards and has a slight sheen.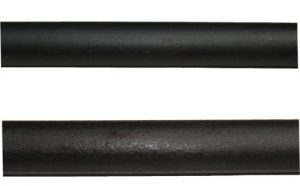 Traditional Black (Top) and Beeswax (Below)
---
Pewter finishes for 16mm solid and 25mm hollow curtain poles.
Just a little bit of information below on how Pewter finishes are achieved for 16mm solid bar and 25mm tubular curtain poles, and the subtle differences between them.
Brackets are always made from steel that has mill scale on it before production and many finials will have too, so there can be blends of several processes in a single curtain pole.
To be honest, the differences are so subtle once the curtain pole is up and in place, other factors such as pole diameter size are usually the decider, but just in case…
Unworked solid bar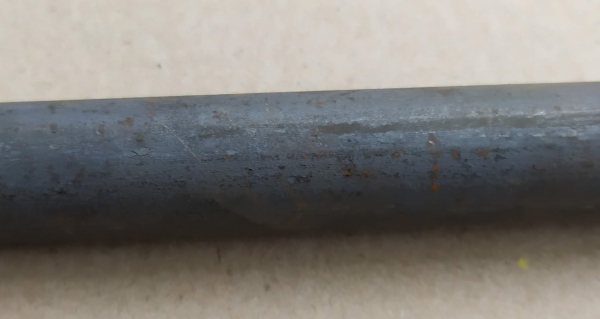 The above image shows solid bar as it comes from the mill. It's covered in a grey scale which has formed through being rolled when red hot from the furnace.
---
Pewter finish on a 16mm solid bar curtain pole
A Pewter finish on 16mm sold bar is created by grinding away the mill scale. The bare metal underneath is a little mottled and marked due to the scale removal process which still leaves small flecks and lines of the scale in the silvery finish. This is then lacquered and waxed to create the "Pewter" finish for solid bar.
---
Unworked tubing
The image above shows 25mm tubing typically as it's received into the workshop before anything has been done to it. This has no mill scale as it is formed using a different process. The metal tubing is bare and smooth. Usually the tubing is oiled to protect it while in stock before being made into a curtain pole.
---
25mm diameter pole with Pewter finish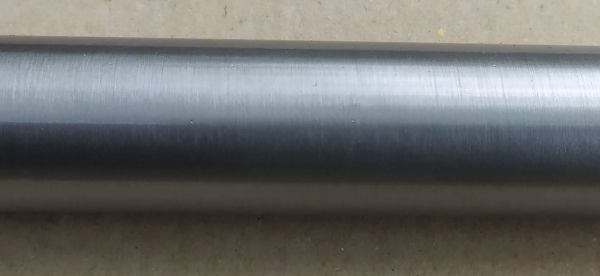 The last image shows the Pewter finish for tubing. As no mill scale has had to be removed through grinding, the end result is more consistent although there can still be evidence of finer marking through working. Just as with the solid bar, the metal is lacquered and waxed to give a more refined version of Pewter, but is every bit hand finished to beautifully compliment the brackets and finials.
---