French style wrought iron curtain rods
French style poles are wrought iron curtain poles with bends that allow the curtain or curtains to return to the wall. Known as a French return, this minimises light and draft leakage and so manages to be both practical and charming at the same time! We prefer a clean and simple provencial style, with the plate having a proper capture ring to retain the curtain rather than the improvised grub screw commonly found elsewhere. Please do compare quality and price with our competitors.
Bay window poles with French style finials are also offered in two diameters and different finishes.
We make Double French Curtain Poles too (main pole with voile rod). (see below)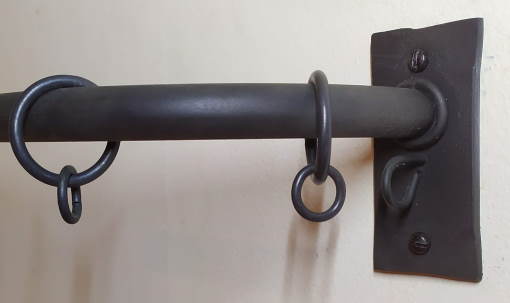 Above: French Curtain pole in Traditional Black with collar detail (16mm)
The default style is without collar (most popular).
Above: French return curtain pole without collar (16mm)
Details for 16mm dia pole:
Length of returns (inside distance between pole and wall) can be specified from 100mm to 150mm.
The fixing plates' dimensions are 100 mm x 40 mm. The pole returns sit in the centre of the bracket plates which gives 20mm from the edges of bracket plate to pole and screw hole centres. Available with or without collar.
---
25mm diameter:
25mm diameter curtain poles with French returns are also available and have 100 x 40mm fixing plates too.
French style bay window pole. A 25mm dia pole with return bends and ceiling fix within the bay, soon to be wrapped and ready for our customer.
---
How to give measurements for French Poles
For French Bay Window Poles, once you've measured your bay window, let us know where you'd like the bracket plates located.
Fitting Guidance:
Fitting a French pole is ideally a two man job to ensure the pole is properly supported and located before being fully secured. After positioning on the wall we suggest marking, drilling and fitting screws in the following order for single length poles: 1. Top Left (not fully, to allow movement for levelling) , 2. Top Right 3. Bottom Left 4. Bottom Right.
For 16mm poles with Centre Joining Brackets you'll need to position the Centre bracket before the other pole half. You'll probably need to allow some movement to locate both pole halves before fully tightening the screws. Once you're happy with everything you'll need to carefully remove and refit once more to add rings.
---
"Hi Stephen, The pole is up! Need to get my curtains made now its up and they can be measured for but here's a glimpse for now with just the unlined linen sheers! Absolutely love this pole!! It's perfect! Once the rest of the room is finished I'll forward further photos. Thank you"…(Emma 2020)
---
Double French Pole with Voile Rail
FYI…By default for Double French Curtain rods, the main curtain rod would be 130mm (gap) from the wall with the Voile rod at 28mm (gap) from the wall.
"Hi Stephen, I ordered this pole from you last year and had sent a photo at the time when I just had voiles up which I've seen you've popped in your website. Well now I have had the curtains made and hung and I can fully appreciate the beautiful french pole now! It's fantastic. I love it so much. Here are some photos showing both poles put to use. I used antique french linen sheets for the curtaining with a Tailored Pleat and together this looks amazing. Thank you Regards," … Emma Lovenberry (May 2021)
---
Ordering and prices
Please view our prices here.
Information on ordering can be found on the Ordering page here, but you can just drop us an email with your requirements.
We'd need to know…
Pole diameter (25mm or 16mm)
The distance between bracket centres for the pole
The Pole offset (gap between pole and wall), 100 or 150mm
The finish (Black, Beeswax (16mm only) or Pewter)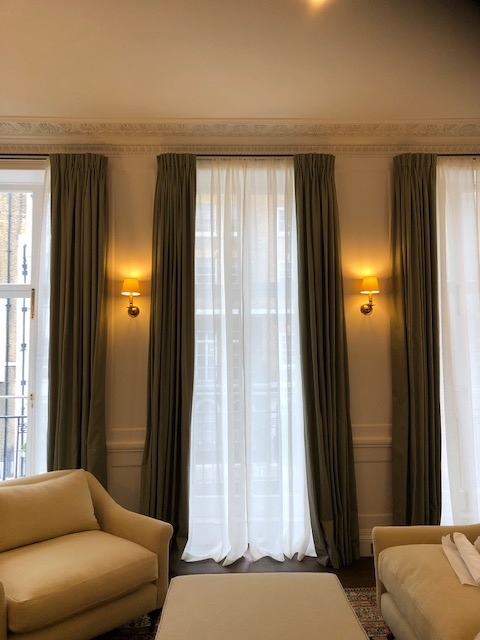 ---
"Hello again, just wanted to drop a quick note to say how thankful we are for the poles that we received last week. They went up yesterday and we are delighted with them" Mandy (Nov 2022) …
---