How to order
---
Ordering Straight Curtain Poles
We need to know…
The Finials
The Overall length of the pole
The Finish


---
A useful diagram to find the overall length of the curtain pole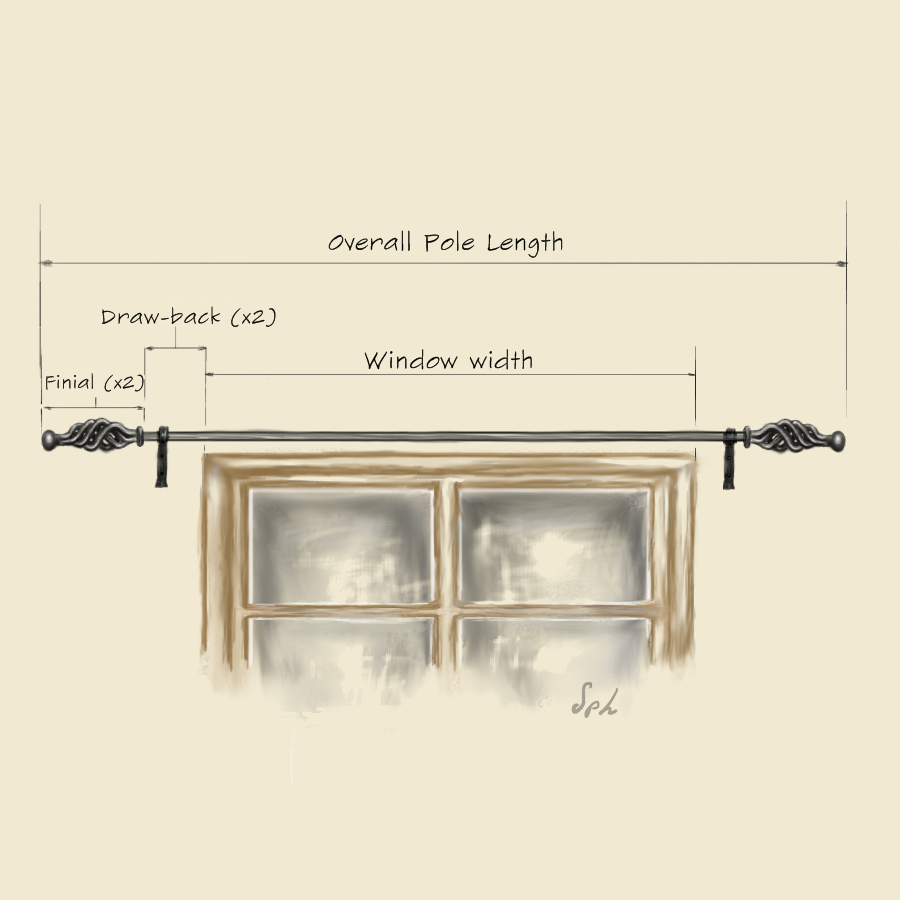 Measure the window width (or recess width).
Add on enough draw-back allowance each side for the curtains to clear the window as required. As a rule this would probably be 150mm to 200 mm per side. Others advise adding 10% of window width per side. It just depends on how wide and thick the curtains are.

Add on the length of the chosen finials to get the overall length of the curtain pole. The finial lengths can be found

here

on the Curtain poles page.
Choose the finish (Beeswax, Traditional Black or Pewter)
---
Notes
Make sure you have enough room and let us know if there are any obstructions (e.g. pipes, deep window frames, etc.) which might be in the way. We can produce special brackets if required.
We can make poles of virtually any length but are restricted by the lengths UPS will carry so poles over 2.25 m will be in two sections with a Joining Centre Bracket. As an example, 4m pole would be supplied in 2 x 2m lengths.
---
Ordering Bay Window Poles
Follow the details for your particular bay window shape from the linked drawings on Bay window curtain poles page regarding how to measure. Again, remember to allow room for the chosen finials (click here) and brackets and get in touch if you need any guidance.
---
When you're ready to order

(By placing an order you accept our Terms & Conditions)
Simply email us the measurements, with your choice of finials and finish including any extra information or comments that may be relevant, and we'll get back to you with payment details and information for placing the order.
There's a form for email and other details on the contact us page
 There'll be an order form here, when I can get round to it,
 but in the meantime please just email us your requirements!
---
Once you've worked out what you need, you can always check the cost on the Prices page.
---
UK mainland delivery
The standard delivery charge is £12.50 per order. We use various couriers depending on the service requirement or availability for the parcel. ( small items would be cheaper if sent via Royal Mail ).
Saturday deliveries, Timed deliveries and remote Scottish postcodes will cost more so please ask for a quote.
---
Enquiries can be made by email (use the form on the "contact us" page) or phone (01386 700299). We do ask for full payment in advance when placing an order please, which can be made by bank transfer, PayPal (inc credit/debit cards).
Internet banking/Paying by Bank Transfer
You may make payments direct to our bank account by bank transfer – please ask us for these details:
Bank:
Account Name: S P Harrison.
Sort Code:
Account No.:
Note: In the "description" field of the payment make sure to include your name so that we can credit the correct account. We also accept secure payment and invoicing through PayPal.

Credit and Debit cards are processed through PayPal, (you don't need a PayPal account) …
Please ask if you'd prefer this option.
When your curtain poles are ready we will advise you before despatching to arrange the most convenient delivery date and location (e.g. home or work).
We are always busy and due to high demand the current lead-time for orders is around 8 weeks from receipt of payment
Please note our order book is now full and new orders cannot be taken until June. Many thanks.
---
By the way…
Many thanks for using this website! I really hope you like it and the curtain poles it tries to do justice to! Over time it will develop but please let me know if you have any suggestions that you think could make it better or easier to use.
Best wishes.
Steve Harrison