Portiere rods
---
Portiere rods
Portiere rods allow a curtain to be placed over a door or over the doorless entrance to a room. The curtain then becomes a Portiere. Portieres are a good economical and ecological way to keep your house warm by covering the door thus insulating it from cold and draughts.
A Portiere rod (also known as Drapery Arms or Door Curtain Poles) is basically a versatile curtain pole on a hinge. The portiere rod hinge can be fitted on the same wall as the door ( Face fixed ) or on a return wall ( side wall perpendicular to the door wall ). If the hinge is fixed on the same side as the door hinge, the curtain will open with the door. The curtain can be drawn or stacked out the way just like a normal curtain pole.
Not only are they great for keeping the house warm, portières can be the finishing touch to a style for a room. Anyway, whatever your reasons, we think ours are easily the best you'll find!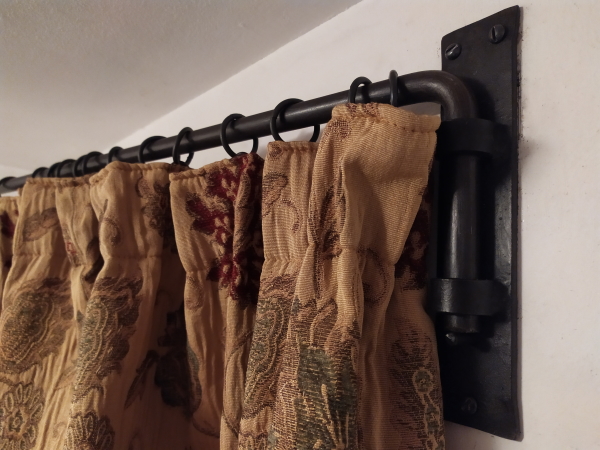 Properly made, better quality and value…

Strong portiere arm formed from a single piece of 16mm solid bar (not two pieces welded together at the bend)
Heavy duty hinge bracket made from thick strap (no thin socket sleeves)
End rest bracket (not applicable for Dormer rods)
4 rings per 30cm pro rata arm length included
Button, Stopper or Plain Ball finial
Beeswax, Traditional Black or Pewter finish
The whole package for £89 (curtain not included!) .
Up to 125cm for Portiere
How to measure
Please give us the required length of the portiere rod arm from the back of the 16mm pivot to the end of the finial (any length up to 1.25 m).
Important: You must work out and provide this specific measurement.
Remember to allow for the width of the hinge plate when fixing on the door wall. The hinge plate is 40mm wide so the inside edge of the plate will be 28mm approx from the outside of the 16mm pivot. If you intend to fix to a 90 degree return wall, the hinge plate will add 5mm to the overall length.
The Button finial is 6mm long.
The Stopper finial is 18mm long
The Plain Ball finial is 40mm long
The Hinge Plate is 150mm long x 40mm wide x 5mm thick
I can always do more drawings if I haven't explained this very well,… just ask!
---
Unfortunately, you can't do everything… 🙂
Handrails (sorry, we dont make these any more)
Handrails, in various guises, made from 16mm diameter solid bar…
"Hey Stephen
Please see photos of handrail attached, it looks ace.
Thanks again
Polly"
---
Pan rails (sorry, we dont make these any more)
These usually have simple finials and the brackets project the rail 80mm or so from the wall. Prices start from £55 and that includes, brackets & "S" hooks too (blunt or sharp). More images coming but ask for details.