Curtain poles, Bay window poles and Accessories...
---
We offer curtain poles in the two most popular and practical diameters; 16mm solid bar and 25mm hollow poles. Both thicknesses are available in Black, Beeswax or Pewter finishes.
---
Our bay window poles are also availbale in 16mm solid bar or 25mm tubing and in the same finishes as straight curtain poles; Black, Beeswax or Pewter.
We can make Bay window poles for Angled Bays, Curved or Bow Bays or a combination of both. Bay window poles can be made with wall or ceiling fixings too.
---
Hold-backs are available in most styles and all finishes.
---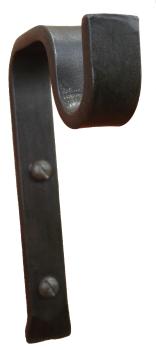 Here you'll find Standard, Joining and Passing brackets in various guises. Brackets can even be custom made to deal with awkward fitting situations. We make our own Double hoop and Passing rings with size information here too.
---